Fire Emergency Course/FLSD F-89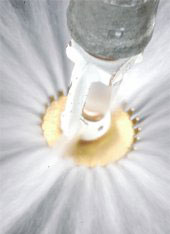 To print the FLSD Curriculum Manual, click here.
This component of the Fire and Life Safety Director Course prepares participants by examining every aspect of fire protection management in high-rise structures. It is an invaluable tool for individuals who dedicate their careers to the protection of people and property from fire in the built environment. Commercial high-rises, hotels and hospitals require certified personnel as mandated by New York City Local Laws, Rules of the City of New York Fire Department and the NYC Fire Code.
There have been many spectacular high-rise fires in the United States. The Triangle Shirtwaist Company fire in Lower Manhattan in 1911 is perhaps the most defining structural fire in New York City and was a catalyst for legislative reform to protect building occupants. Unfortunately, 146 people lost their lives in this fire. In 1970, the One New York Plaza fire in Lower Manhattan killed two people and injured 35 occupants. The First Interstate Bank fire in Los Angeles in 1988 claimed the life of an engineer and economic losses of $50 million. In 1991, the One Meridian Plaza fire in Philadelphia resulted in the death of three firefighters. The Bank of New York fire at 280 Park Avenue in 1993 cost property damage estimated at more than $10 million. In 2003, the Cook County Administration fire in Chicago claimed the lives of six occupants who were overcome by smoke in the stairwells. Undoubtedly, the attack on the World Trade Center on September 11, 2001 was a focusing catastrophic event that caused the death of 2,753 people and the destruction of the famous Twin Towers. These fires prove that no one is immune from the devastating personal and economic impact of high-rise fires. Lessons learned from local and national fires are discussed.
We will discuss the theory and design of automated fire suppression systems and their role in the detection and suppression of smoke and fire. The elements and principles of Local Law 5 of 1973 are explored and discussed extensively. The interaction between occupants, fire protection systems and construction technologies are examined.
Pre-requisite for FLSD F-89: 1.5 years of Fire Safety related experience, including 6 months of experience in one property.
This course is also open to individuals who are not seeking a certificate of fitness from the FDNY.
To view the FLSD organizational charts Click Here
PRINT 275 FREE FIRE, LIFE SAFETY, ACTIVE SHOOTER, MEDICAL AND NON-FIRE EMERGENCIES PRACTICE SCENARIOS
[CLICK HERE].
PRINT THE ANSWERS TO THE 275 PRACTICE SCENARIOS
[CLICK HERE].
Class Schedule (subject to change without notice)
If you pay online you are agreeing with the content of our Refund Policy.
To register and pay via charge, credit or debit card, including American Express, Master Card, Visa, JCB and Discover, please click on the corresponding "Register and Pay Now" link below or call 212-213-3434 during normal business hours.
To register and pay in advance via money order, corporate check, certified personal check or cash, please visit our office or send payment by mail (except cash) to: Radiant Training & Consulting, LLC, 566 Seventh Avenue, Suite 602, New York, NY 10018. We are located between 40th and 41st Street in Times Square.

March 2018
2-Week Course: March: Monday, 3/5, Wednesday, 3/7, Monday, 3/12 and Wednesday, 3/14, 9a to 2:30p ($240.00)

2-Week Course: March: Monday, 3/26, Wednesday, 3/28, Monday, 4/2 and Wednesday, 4/4, 9a to 2:30p (Limited Time Special Offer: $200.00)
Saturdays: March 3, (skip 3/10), 17, 24 and 31, 9a to 2:30p (Limited Time Special Offer: $200.00)
April 2018
2-Week Course: April: Thursday, 4/5, Monday, 4/9, Wednesday, 4/11 and Thursday, 4/12, 9a to 2:30p
To use your own manual and pay $200 click the button below

To use the Radiant manual and pay $220 click the button below

Please arrive to class ON TIME as classes start promptly.
If you have any questions, please Contact Us.