Non-Fire Emergency Course/FLSD F-89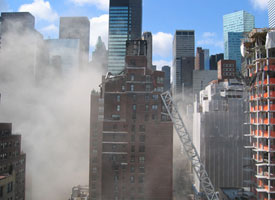 High-rises should have on staff Fire and Non-Fire Emergency trained personnel. This course is designed to examine every aspect of emergencies other than fires. It is invaluable to those who dedicate their careers to the protection of people from harm and property from loss in the built environment.
New York City has experienced numerous emergencies other than fire. In 2008 there was the collapse of two construction cranes. Six construction workers and a person in a residential complex were killed when a crane toppled onto several buildings; and in a separate incident, two construction workers were killed after a crane collapsed at a construction site. In 2007 the steam pipe explosion resulted in damages to multiple properties and wide-spread panic among building occupants. The 2003 Blackout resulted in the deaths of several people. On September 11, 2001, New York's World Trade Center was destroyed when terrorists crashed commercial airliners into the buildings. Chemical, biological, radiological and nuclear catastrophic events are discussed. The responses: shelter in place, in-building relocation, partial evacuation and evacuation are explored in detail and evaluated based on selected human-made and natural disasters. Lessons learned from local and national catastrophic events are discussed to provide participants with a comprehensive understanding of non-fire emergencies.
This course is also open to individuals who are not seeking a certificate of fitness from the FDNY.
To view the FLSD organizational charts Click Here
PRINT 100 FREE FIRE, LIFE SAFETY, ACTIVE SHOOTER, MEDICAL AND NON-FIRE EMERGENCIES PRACTICE SCENARIOS
[CLICK HERE]
PRINT THE ANSWERS TO THE 100 PRACTICE SCENARIOS
[CLICK HERE]
Class Schedule (subject to change without notice)
If you pay online you are agreeing with the content of our Refund Policy.
To register and pay via charge, credit or debit card, including American Express, Master Card, Visa, JCB and Discover, please click on the corresponding "Register and Pay Now" link below or call 212-213-3434 during normal business hours.
To register and pay in advance via money order, corporate check, certified personal check or cash, please visit our office or send payment by mail (except cash) to: Radiant Training & Consulting, LLC, 566 Seventh Avenue, Suite 602, New York, NY 10018. We are located between 40th and 41st Street in Times Square.
March 2018
Thursday: March 8, 9a to 5p SOLD OUT

Monday: March 19, 9a to 5p SOLD OUT

Tuesday: March 27, 9a to 5p SOLD OUT

April 2018
Saturday: April 7, 9a to 5p

Tuesday: April 10, 9a to 5p

Monday: April 23, 9a to 5p

Saturday: April 28, 9a to 5p

Monday: April 30, 9a to 5p

Please arrive to class ON TIME as classes start promptly.
If you have any questions, please Contact Us.