OSHA 10 Hour Construction Industry Course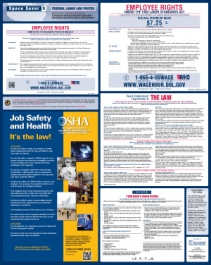 This course is designed to provide workers with introductory information about the Occupational Safety and Health Administration (OSHA):
Why is OSHA important to you?
What rights do you have under OSHA?
What responsibilities does your employer have under OSHA?
What are OSHA standards?
How are OSHA inspections conducted?
Where can you go for help?
Why is OSHA Important to You?
4,405 workers were killed on the job in 2013 (3.2 per 100,000 fulltime equivalent workers). An average of nearly 12 workers die every day on the job. 797 Hispanic or Latino workers were killed from work-related injuries in 2013. Nearly 3.0 million serious workplace injuries and illnesses were reported by private industry employers in 2012.
OSHA Makes a Difference
Worker deaths in America are down--on average, from about 38 worker deaths a day in 1970 to 12 a day in 2013. Worker injuries and illnesses are down from 10.9 incidents per 100 workers in 1972 to 3.0 per 100 in 2012. OSHA is an agency of the U.S. Department of Labor. OSHA's responsibility is to improve worker safety and health protection. On December 29, 1970, President Nixon signed the OSH Act. This Act created OSHA, the agency, which formally came into being on April 28, 1971.
OSHA's Mission
The mission of OSHA is to assure safe and healthful working conditions for working men and women by setting and enforcing standards and by providing training, outreach, education and assistance. Some of the things OSHA does to carry out its mission are:
Developing job safety and health standards and enforcing them through worksite inspections.
Providing training programs to increase knowledge about occupational safety and health
What Rights Do You Have Under OSHA?
You have the right to a safe and healthful workplace, know about hazardous chemicals, report injury to employer, complain or request hazard correction from employer, hazard exposure and medical records, file a complaint with OSHA, participate in an OSHA inspection, be free from retaliation for exercising safety and health rights.
Class Schedule (subject to change without notice)
If you pay online you are agreeing with the content of our Refund Policy.
To register and pay via charge, credit or debit card, including American Express, Master Card, Visa, JCB and Discover, please click on the corresponding "Register and Pay Now" link below or call 212-213-3434 during normal business hours.
To register and pay in advance via money order, corporate check, certified personal check or cash, please visit our office or send payment by mail (except cash) to: Radiant Training & Consulting, LLC, 566 Seventh Avenue, Suite 602, New York, NY 10018. We are located between 40th and 41st Street in Times Square.
February 2018
Wednesday and Thursday: February 28 and March 1, 4:30p to 10p (must attend both days)

March 2018
Wednesday and Thursday: March 21 and 22, 4:30p to 10p (must attend both days)
April 2018
Wednesday and Thursday: April 25 and 26, 4:30p to 10p (must attend both days)

Please arrive to class ON TIME as classes start promptly.
If you have any questions, please Contact Us.